Automated Sorting and Stacking of Books – San Flap Sorter
What is a San Flap Sorter?
The San Flap Sorter is a system specially designed for book sorting.
Several volumes of books are set in the loading device and one-by-one, the books are introduced into the system, their barcode is scanned, and they are sorted.
The system incorporates processes up until the stacking system, thereby allowing operation with a small team of personnel.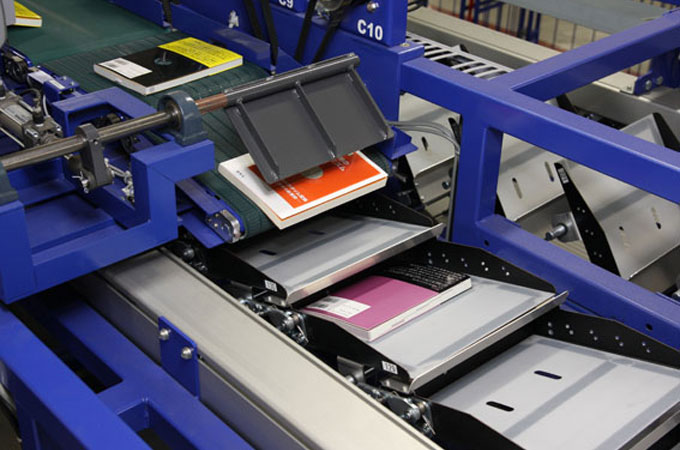 Flow of Sorting
1

Books are set in the loading device.

2

The books are introduced to the sorting device (San Flap Sorter) via the induction conveyor.

3

The books are sorted into different directions by the San Flap Sorter and discharged to a classified stacking station for storage.
Characteristics of the San Flap Sorter
Accurate and flexible sorting capability

3,000 books/hour (1 loading device) * maximum 9,000 books/hour. Book sizes can range from minimum size of A6 at 5 mm thickness and 50 g to a maximum size of B5 at 40 mm thickness and 2 kg. The barcode printed on the book is scanned and the books undergo tray sorting one book at a time to prevent misalignment.

Books can be cleanly transported with a mechanism that prevents collapses of stacked items.

By adopting a box-type device, the items can be conveyed in a stable state.

Books can be sorted in various directions

The discharge stations have 60 cm intervals between them. It is possible to specify sorting in various directions and effectively utilize space.
Past Works
Book industry related centers

Related Information